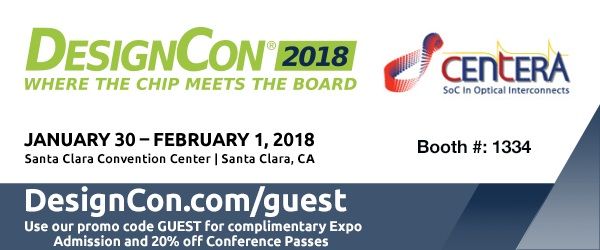 Centera Photonics, Inc. is exhibiting at DESIGNCON 2018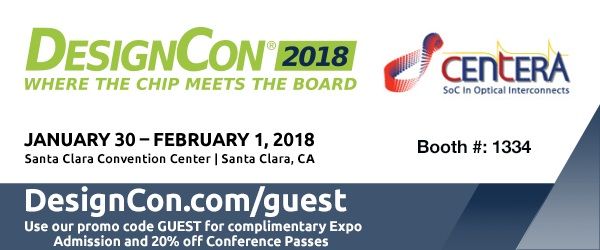 Please Visit Us in Santa Clara for DesignCon 2018
Centera Photonics will LIVE DEMO its 200G 2x CWDM4, 2x eSR4
and 50G PAM4 in the Coming DesignCon 2018

Centera is pleased to invite you to join our show in DesignCon 2018 to see our latest development of our cutting- edge System in Package (SIP) platform. You will be able to see the Silicon-based platform has been applied to the fastest 200Gbps products for Hyper scale Datacenters. We will have LIVE-DEMO of 2x CWDM4 (up to 10km) and 2x eSR4 (up to 300 meters) transceivers; both will be in DD form factor. Come and check how our development team integrates those optical and electronic components onto a such tiny mechanical space and the innovative thermal management system safeguards the transceivers at the full speed of 200Gbps!!

Also do not miss the PAM4 technology implemented on Centera's SIP platform with DFB lasers. This exclusively PAM4/DFB laser solution will be able to save up to 40% power on the optical transceivers.